Trekking in the Sahyadris offers some wonderful adventures, whether you're looking for a day trip or a weekend outing. You'll head out into the sprawling wilderness, ready to explore ancient forts with secret passages and grand doorways. You'll hop over small streams and gushing rivers, clamber up rocky trails, hike through lush tropical forests, and stand atop hills with spectacular views all around.
There are all kinds of treks in the Western Ghats, whether you're a beginner looking for an easy hike or an experienced trekker trying to find a challenging weekend adventure. However, most treks take place in remote locations, so it is important that you have everything you need in your bag. This packing list for trekking in the Sahyadris will make sure you have everything you need.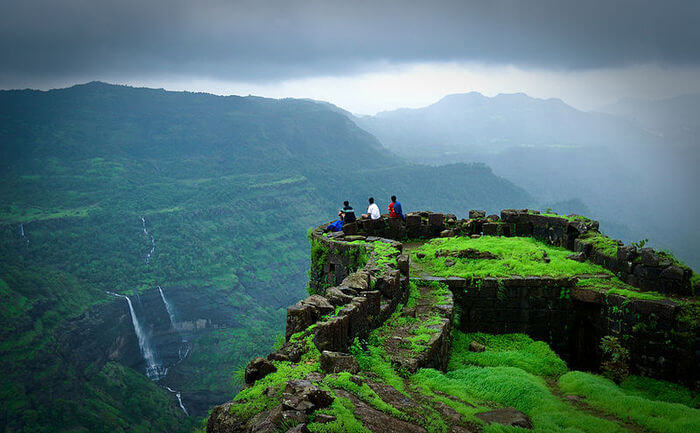 Checklist:
Backpack with Rain cover: 10-40 litres, max weight: 7-8 kgs.
Shoes: Trekking shoes, preferably waterproof with good grips.
At least two pairs of cotton socks.
Clothes – At least a pair of tees, undergarments and a towel.
Rain Jacket and Trousers, should be strong enough to protect you from 5 hours of continuous water exposure.
Head Lamp or Flashlight
Water Bottles / Bag – At least 2 litres of water per person is must.
Sleeping Bag (Or thick blanket) and Mattress
Insect Repellent
First Aid Kit / Personal medicines
Personal Utilities: Toothbrush, Toothpaste, Soap, Shampoo, Toilet Paper.
Essentials for all treks:
Shoes and Backpack: No matter how short or easy your trek is, make sure you're wearing sturdy trekking shoes. Avoid trekking in the Sahyadris in sandals or slippers – you'll be vulnerable to insect bites, sprained or twisted ankles, or injuries from sharp rocks or thorny bushes. Carry at least two pairs of socks along and change on regular intervals. Take a good 10-40 litres backpack along, even for a short trek. You must have your hands free at all times, so avoid taking handbags or bags that hang on your side. Weight is an important aspect when packing your backpack and ensure you carry a max of 7-8 kgs weight on your back given event the longest treks in Sahyadris last for 2-3 days.
A change of clothes: Whether you're traveling in the rainy season, winter, or summer, you should have at least a spare tee and undergarments with you. Even if you are trekking for 3 days, carry at most 2-3 extra tees and a trouser to limit the weight on your back. Towel can also help soak up the water after the trek.

Rain Protection: If everything goes as per the plan, you will be trekking for hours in rain and protection is important – for both you as well as your backpack. Rain cover can act as a protection for your bag while it's still a good idea to pack your belongings in plastic bags, especially wallets, mobiles and other electronic devices or valuable items. To protect yourself from rain and cold winds, carry a strong rain jacket and trousers or poncho.
Head lamp or flashlight: If you're planning an overnight trek, a head lamp or flashlight is a must. Even if you're only planning a day trek, it's a good idea to have at least one, just in case you get lost or delayed.
Water bottles: It is vital that you carry enough water for yourself, and then a bit more. No matter the season, two litres of water per person is a good number for day trekking in the Sahyadris. Take small sips, even when you're hot and tired, and roll it around in your mouth before you swallow. Don't gulp your water down at any point.
Sleeping bag: The mist hangs low over the hills and water bodies, and you'll enjoy cold nights and pleasant days. You should be prepared for temperatures dipping quite low. Carry a sleeping bag or thick blanket to protect yourself from the cold. Sleeping mattress is optional and depends where you are staying – homestay usually provides mattresses as well while own mattresses can come in handy when camping.
Insect repellent (Odomos): Carry an insect spray or cream on your trek. In densely forested areas, especially in the monsoon, the mosquitoes can be quite persistent. Apply before you start the trek, and remember to swipe it across the back of your neck and tops of your ears. Apply to feet and hands before sleeping.
First Aid: You should have a basic first aid kit on hand at all times. Your kit should Dettol/Savlon, antiseptic cream, cotton wool, Band-Aids, a gauze bandage, a spray or gel for muscular pain, and basic tablets for headaches, acidity, vomiting, allergies, and fever. If traveling with a group, ensure the trek leader is carrying the basic kit and you have your personal medicines with you.
Personal Utilities

Toothbrush and toothpaste
Sunscreen Cream
Hand Sanitizer
Toilet Paper and Wipes
Shampoo and Soap

Others

Dry snacks / Fruits – Avoid eating biscuits and chips during the trek.
Camera – to capture beautiful memories. Ensure you protect it from rain.
Cash – keep small amount of cash handy in your pocket for snacks, quick cups of tea, and any additional expenses that might arise. Carry small denominations so you don't have trouble getting change. It is also a good idea to keep some money packed for emergencies.
Power Bank
Garbage Bags